Terpenes, sometimes called "terpenoids" are what gives cannabis strains their distinctive flavours and smells. They are the concentrated aromatic oils that the plant produces and that make a strain taste fruity or minty, give it an earthy or citrus-y aroma, or it can even make the flower smell like cheese.
Cannabis plants commonly produce terpenes in the same glands where they also produce THC and CBD. Most of the scientific and medical community has been focused on studying these two by-products of the marijuana plant and not too much specific attention has been spent on terpenes up until now. Growers and medical researchers have in the past focused on THC and CBD, which means the knowledge about terpenes and their function isn't too widely spread. Only recently has it come to light that terpenes play a major role when it comes to the unique effects of consuming the marijuana flower. If you want to learn more about come of the research behind terpenes we recommend you check out this resource.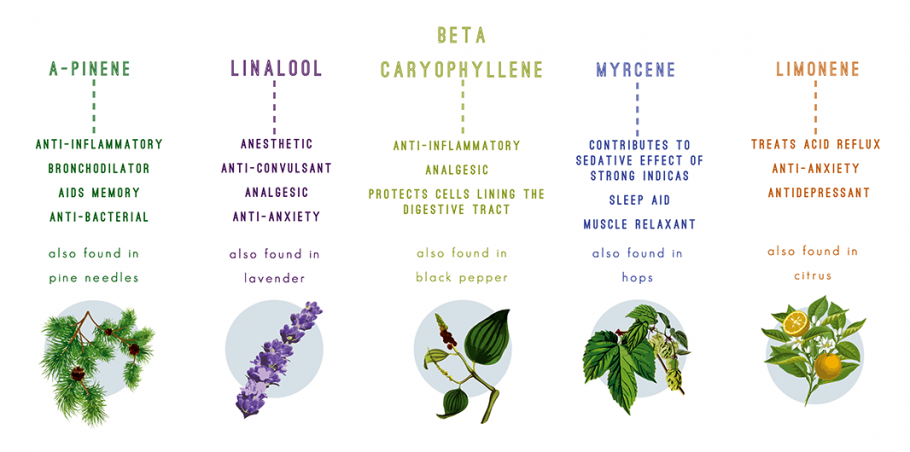 SO TERPENES ARE PLANT OILS? SO WHAT?
Terpenes are the majority of the reason that makes a marijuana strain unique and enjoyable. Much like how other essential oils found in plants and foods are good for us, so are the terpenes found in cannabis flowers! It's the unique combinations of different terpenes are responsible for giving us some of the most flavourful strains of cannabis. Terpenes are awesome when they're found naturally in marijuana flowers, but they're even better when they're added to marijuana concentrates!
Part of the reason that concentrates are so enjoyable is the not just their potency but the delicious taste that some of them have from the terpenes that are both found naturally in the concentrated THC shatter runs of the buds, but also sometimes the pure terpenes that are added to the concentrates when they are made, making a "sauce" or "terp sauce".
Sauces are delicious and are a weed connoisseurs' favorite type of concentrate providing the strength of shatter with the delicious taste of the natural terpenes found in the cannabis flower. We have a great selection of "terp sauces" from one of the hottest new companies in the extracts game, HIGH VOLTAGE EXTRACTS.
DIFFERENT TYPES OF TERPENES
There are many different kinds of terpenes. One of the most common terpenes is Limonene, which is also found in many other foods naturally like fruits and vegetables. Check out the following pie chart to see which foods contain which terpenes.
If you want to read more about the different type of terpenes and their benefits we also recommend that you read this article. They have noticed that in studying terpenes they have slightly different effects when combined with other trace amounts of different terpenes, creating what is called a potential "entourage effect". In science when two things react with each other differently based on the presence of another third chemical element it is called a catalyst. Scientific evidence is pointing that terpenes are the catalysts that combine with the other active ingredients in the plant such as THC and CBD to give us the different and unique highs that we experience when we smoke cannabis.
WE GOT TOO MUCH SAUCE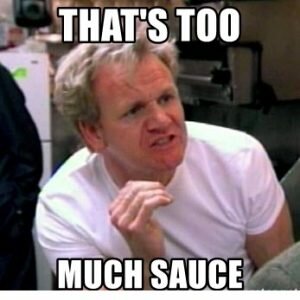 For a limited time at BoutiqueCannabis we have the brand new terp sauces from HIGH VOLTAGE EXTRACTS on sale of 10$ off! These sauces are absolutely fantastic, extremely tasty with different terpenes and flavour profiles. Try them all!
Sauce – High Voltage Extracts
Sauce – High Voltage Extracts
Sauce – High Voltage Extracts
Sauce – High Voltage Extracts
Sauce – High Voltage Extracts
Sauce – High Voltage Extracts
Sauce – High Voltage Extracts
Sauce – High Voltage Extracts
Sauce – High Voltage Extracts
Sauce – High Voltage Extracts